"A great pleasure of restaurant writing is to see a chef you've admired come fully into his or her own."
Alison Cook – a two-time James Beard Award winner for restaurant criticism and an M.F.K. Fisher Distinguished Writing award recipient – has been reviewing restaurants and surveying the dining scene for the Houston Chronicle over a decade.
Alison Cook recently visited TRIS, and gave a 3 (out of 4) Star Review; "…tantalizingly close to a four-star" as she stated.
ALISON COOK's STAR RATINGS EXPLAINED:
Four stars: superlative; can hold its own on a national stage.
Three stars: excellent; one of the best restaurants in the city.
Two stars: very good; one of the best restaurants of its kind.
One star: a good restaurant that we recommend. No stars: restaurant cannot be recommended.
Please visit www.houstonchronicle.com for the complete review.
"Simmons and his team are now running one of the best restaurants in the city, broadly defined. For anyone interested in fine dining, it's a worthwhile jaunt. I'd do it for the Korean butter-poached crab alone."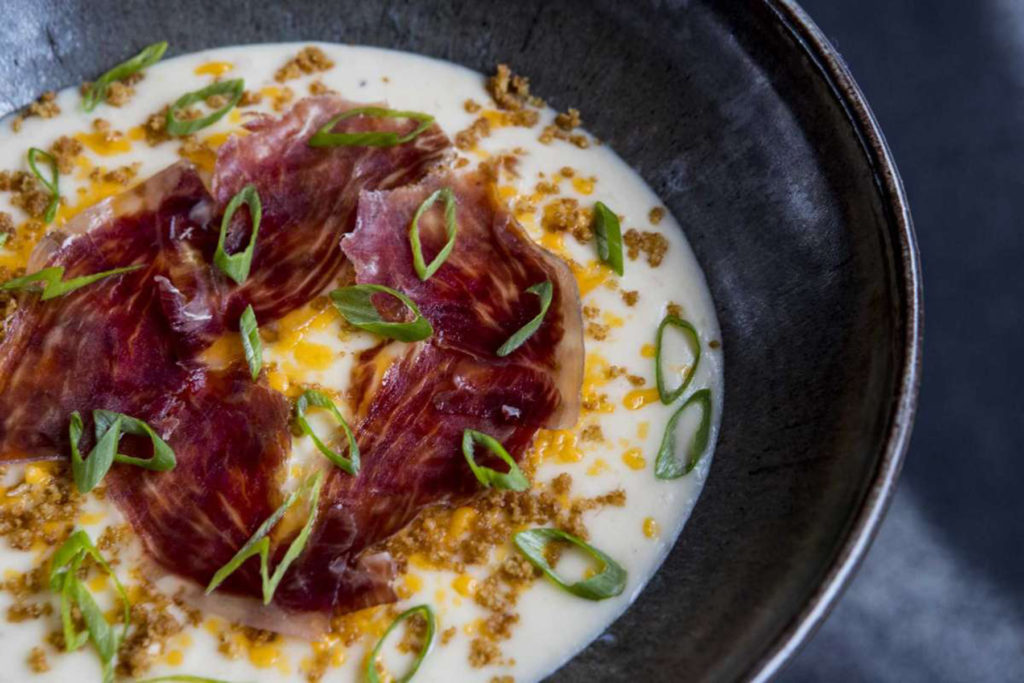 Potato soup with Iberico pork shoulder, Hook's five-year cheddar cheese and chives at Tris in The Woodlands. Photo Credit: Brett Coomer, Houston Chronicle / Staff photographer.
Tris and our Chef Tasting concept Cureight was ranked 21 in Houston Chronicle's annual list of Houston's Top 100 Restaurants by Alison Cook. Only the top 25 restaurants are ranked on this annual restaurant listing by Alison Cook.
The Woodlands now has a three-star restaurant that's worth a journey. New review: https://t.co/D5oX7bz40b

— Alison Cook (@alisoncook) March 19, 2019